When it comes to selling your home in the Katy area, it's crucial to select the right listing agent. With her experience, dedication, and client-centric approach, Shardai Augustus stands out as one of Katy's top choices. Shardai is the perfect listing agent for navigating the real estate market and achieving a successful sale for four compelling reasons.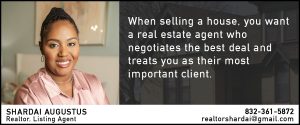 Extensive Katy 77449 Listing Expertise
Shardai Augustus has a deep understanding of the Katy area's real estate market, making her your trusted guide. Shardai's extensive local knowledge allows her to accurately assess market conditions, track trends, and determine competitive pricing strategies for your property. With her expertise in Katy's subdivisions, including the current Katy 77449 and Katy 77450 listings, she can position your home effectively in the market.
She understands the distinct features and amenities that make each subdivision desirable to potential buyers beyond market analysis. Her goal is to market your property effectively and attract qualified buyers passionate about the Katy area by highlighting these qualities. As a seasoned real estate listing agent in Katy, Shardai's knowledge and expertise are invaluable assets.
Specific Katy 77449 Marketing Strategies
As a listing agent, she prides herself on developing personalized marketing strategies tailored to each property she represents. She understands that every home has its own unique selling points and target audience, and she uses this knowledge to create personalized marketing strategies.
For maximum exposure, Shardai employs a wide range of marketing channels. Using cutting-edge techniques like professional photography, compelling listing descriptions, and social media promotions, she showcases your property's features and draws buyers in.
With Shardai's custom marketing strategies, your house will stand out in a crowded market. Lately, she's been working with houses in the Katy 77449 Settlers Village and Katy 77493 Elyson areas. You can call Shardai if you're ready to list your Katy 77449 house with her.
Expert Negotiation Skills
A key aspect of the selling process is negotiating the best deal. Shardai Augustus is an excellent negotiator with a focus on maximizing the value of your sale. With over 10+ years of teaching combined with real estate experience, she has perfected her Texas-style negotiation skills. This enables her to navigate complex transactions professionally, efficiently, and with an emphasis on achieving favorable outcomes for her clients.
You can count on Shardai to protect your interests when it comes to negotiating the sale price, dealing with inspection requests, or handling contingencies. By communicating effectively, building rapport with other agents, and negotiating strategically, she ensures that your property sale will be completed at the best possible price. Shardai will help you achieve your financial goals and objectives with her expertise as a listing agent.
Exceptional Client Service
As a real estate listing agent, Shardai is passionate about providing the best client experience during the sales process. She understands how stressful it can be to sell a home, thus, she is committed to providing you with a stress-free selling process.
Overall, she is very committed to your satisfaction and provides open communication, transparency, and a genuine commitment to her clients' needs. She takes the time to listen to your needs, understand your motivations, and address any concerns you may have. She keeps you updated throughout the process, providing regular updates and feedback from prospective buyers.
Conclusion
Choosing Shardai Augustus as your Katy listing agent ensures a successful and rewarding home-selling experience. Shardai is an expert in the Katy real estate market with her extensive local knowledge, tailored marketing strategies, negotiation skills, and exceptional client service. Let her expertise, dedication, and personalized approach help you sell your home and maximize your property's value in Katy's vibrant subdivisions.
Call Shardai if you're ready to list your Katy 77449 house with her.