When selling a property, having a trustworthy and dedicated real estate listing agent by your side is crucial. In the Katy area, Shardai is a standout professional passionate about serving the local community and ensuring a seamless and rewarding real estate experience for clients. She is your local real estate listing agent committed to providing exceptional service and unwavering dedication. 
Dedicated Katy Real Estate Listing Agent
Shardai understands that each client has unique needs and aspirations. That's why she takes a personalized approach to every real estate transaction. By listening attentively to her client's goals and desires, she tailors her services to ensure that specific requirements are met.
Whether you are a first-time home-seller or a seasoned investor looking to expand your portfolio, Shardai is committed to guiding you every step of the way.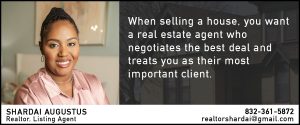 Extensive Katy Market Knowledge
She stays on top of the latest market trends, property values, and neighborhood dynamics, so you can rest assured that Shardai has extensive knowledge of the local Katy real estate market. You can rely on Shardai for accurate pricing advice, strategic advice, and valuable insights based on her in-depth knowledge of the area. Her expertise ensures the best possible outcome whether you are selling a more established Katy Settlers Village 77449 house,  Katy Cinco Ranch 77450 house, or even a newer Katy Elyson 77493 house.
Unparalleled Commitment
She goes above and beyond for her clients. Shardai is dedicated to helping individuals and families achieve their real estate goals, which is evident in her tireless work ethic and willingness to go the extra mile for her clients. With her dedication to excellence, Shardai conducts thorough research, negotiates on your behalf, or coordinates with other professionals.
Effective Communication
Shardai will provide you with clear and prompt communication. She understands the importance of keeping her clients informed throughout the entire transaction. Shardai is always available to answer your questions, provide updates, and address any concerns you may have from the initial consultation through closing. At every stage of the transaction, she ensures you feel confident and supported by maintaining open lines of communication.
Building Strong Relationships
She values the trust she has earned from her clients and strives to develop strong relationships based on integrity, honesty, and transparency. Shardai believes that real estate is more than just a transaction; it is about building lasting relationships. Shardai understands that the real estate process can be emotionally charged and challenging. With her guidance and support, you can navigate the complexities of the market with confidence and peace of mind as your Katy listing agent.
Conclusion
If you're looking for a real estate listing agent dedicated to providing exceptional service to the Katy area, Shardai is your best bet. With her personalized approach, extensive market knowledge, effective communication, and unparalleled commitment, she is the ideal partner to guide you through your real estate journey.
You can contact Shardai today and discover the difference she can make in your real estate endeavors in your area.